Rock and Roll will never die – Win big in Wheels of Rock® and channel your inner vibes.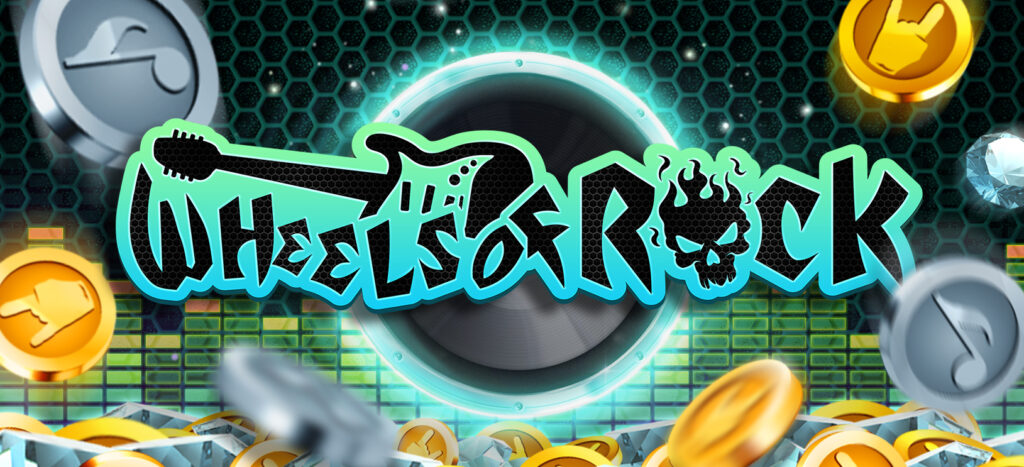 Wheels of Rock® is the first SuperSlice® game to come to market and is simple, straightforward but packs a massive volatile music punch with up to 25,000x your bet in a single feature session. The patent-pending SuperSlice® offers 2-12 dynamic slices on every spin. It couldn't be easier, spin the wheel, see the number of symbols slices added and watch where the pointer lands. More slices means a higher chance for wins while lower slice numbers means larger prizes. For rockin wins, avoid the empty no-win slices.
Wheels of Rock® includes 4 features, a multiplier wheel and respins with up to a 50x multiplier on any symbol win, free spins that offer unlimited multipliers on symbol wins and MagSpins®, which offers a chance of a maximum payout of 25,000x but never less than 12x.
The Multiplier Wheel
Hit any symbol with a multiplier triangle in the base game or free spins and the outer multiplier wheel is activated offering up to 25x in the base game and 50x in free spins to any symbol win.
Respins
The Respin symbol triggers the respin feature which offers a guaranteed win. All losing slices are removed and refilled with possible wins and all symbols are given multiplier triangles guaranteeing a win between 2-25x in the base game and 4-50x in free spins. Feature symbols, except Respin remain on the wheel and are played out normally if triggered.
Free Spins
Hit the Free Spins symbol and 10, re-triggerable, free spins are awarded. In free spins, on each symbol win, the value of the symbol increases by 1x on the initial win and 2x thereafter. The multiplier wheel is upgraded by 2x on all multiplier values and Respins and MagSpin® chances are increased.
MagSpins®
Hitting MagSpins® awards 3 rockin concert spins on its special wheel of multipliers. For each spin, the multiplier wheel reloads with values up to 10,000x. A MagSpin® pointer is chosen offering up to 3 points which heavily increases your chance for a big win on the locked 7 slice wheel. The MagSpin is your chance at a headbanger win of up to 25,000x your bet in a single session. Wins are guaranteed to payout a minimum of 12x.
As an operator you can choose the game RTP that fits your site and players best with a choice of 90.12%, 94.32% or 95.47%. Wheels of Rock is rated as a RAW Power games with extreme volatility but offering life changing win potential. Wheels of Rock® offers Clusterspin® a new side bet feature that allows players to place bets on the quality of their rounds betting on whether it's a winning or losing round.
Tom Wood, CEO for RAW, said: "Wheels of Rock® represents our first SuperSlice® game so we wanted to keep it easy but at the same time pack a punch so that players get a completely new experience in SuperSlice® but with the features and win potential they are used too playing."