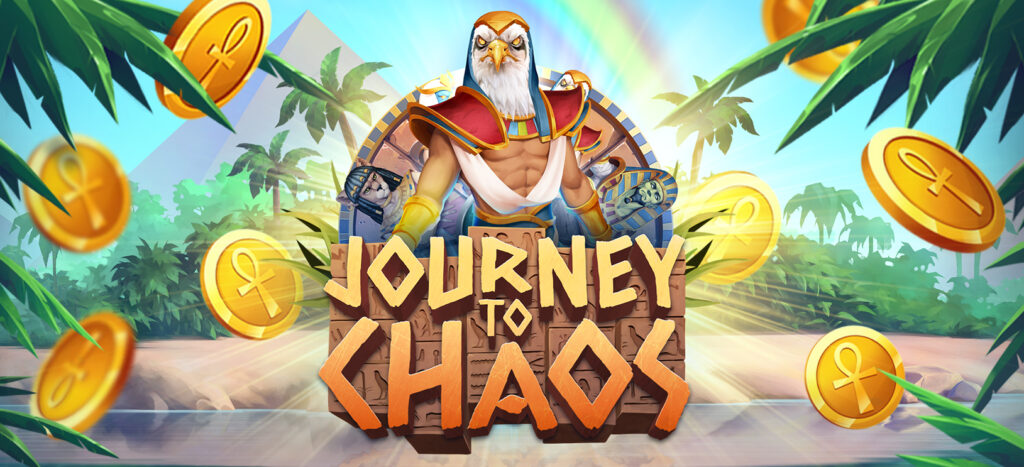 Challenge the Egyptian gods for their riches in Journey to Chaos® Welcome to the world's first cascading wheel slot with increasing multipliers, free spins & Chaos Spins paying up to 15,000x your bet.
Your Journey to Chaos® begins with Thoth and with his reward travel begins. Receive a symbol win from each god, Thoth, Horus, Osiris and Geb and multiply your wins with each god multiplier (1-4x). Reach the father god RA and find a chance to free spins, win multipliers and ultimately the god of Chaos, Naunet and her Chaos Spins where real treasure awaits, up to 15,000x your bet.
The game uses RAW's patent-pending SuperSlice® wheel, offering 2-12 dynamic slices on every spin. It couldn't be easier, spin the wheel, see the number of slices and symbols added and wait for the gods to reward you. More slices mean a higher chance for wins while lower slice numbers means larger prices but make sure to avoid the gods wrath with empty slices.
RA Wheel
Reaching the RA wheel offers players the chance of winning 8 or 12 free spins but also 2x or 3x multiplier on the current session win. In free spins 4x is also added to the wheel as well as Naunets symbol which triggers the treasure filled Chaos Spins.
Free Spins
RA can award 8 or 12 free spins and if the player is blessed is transported into the pyramid temple where all god multipliers are doubled from 2-8x. Reach RA for your chance at session win multipliers or triggering Naunets Chaos Spins.
Chaos Spins
If you please the gods, RA might award you with Naunet's Chaos Spins. Very few get to see Naunet but those that do are likely to see her treasure knows no bounds. Naunet's Chaos Spins gives you unlimited spins with the chance of collecting your own gods, each with its own unique multiplier. With each spin she fills her wheel of gods including the chance of multiplying your entire collected multiplier by 2 or 3x. On the true of heart will be lucky enough to see her top price of 15,000x their bet.
Bonus Rush® & Clusterspin®
Introducing Bonus Rush® from RAW. This is our first game to include Bonus Rush® which allows players to jump straight into the action. No more waiting! Journey to Chaos® also includes our unique side bet game, Clusterspin® which gives players the chance of placing a bet on whether their session will be a winning or losing one and earn extra cash, up to 1,000x extra!
As an operator you can choose the game RTP that fits your site and players best with a choice of 90.38%, 94.35% or 95.56%. Journey to Chaos® is rated as a RAW Thrill game with exciting volatility.
Tom Wood, CEO for RAW, said: "Journey to Chaos® represents many firsts as well as proving the flexibility of SuperSlice® as an entertainment medium. Besides being the first cascading wheel game, it offers Bonus Rush® as well as offering a game with amazing artwork, storytelling and payouts."