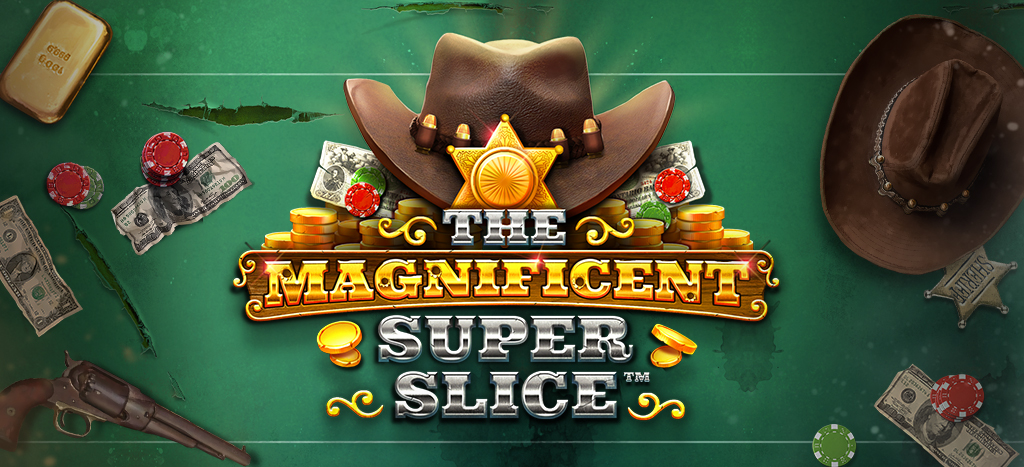 Let's play a classic favourite, SuperSlice-style! And heck, let's do it in the old west, I mean, why wouldn't we. It was a magnificent time and its a magnificent game with magnificent prizes up to 15,100x your bet.
The Magnificent SuperSlice™ uses RAW's patent-pending SuperSlice® wheel, offering 2-12 dynamic slices on every spin. It couldn't be easier, watch the bet selector to see your available bets, watch as the wheel and slices are added and wait and see if the ball hits your numbers. To spice it up, we added large multipliers, free spins and our ever-popular MagSpins® offering a minimum of 12x but up to 15,100x your bet.
Bet Selector
At the start of each spin, 4 bet options are chosen randomly from the bet selector reels consisting of one selector consisting of a 50/50 bet via Odd, Even, Red or Black, one area bet with the options 1-18, 19-36, 1-12, 13-24 and 25-36 and two number bets for any number between 1-36. If the ball lands on a slice that matches one or several of your bet options, you will be awarded the corresponding prize. Multiple bet options can pay out on the same spin.
Multipliers
During any spin of the base game or free spins wheel, multipliers are added randomly to any slice ranging from 2-50x in the base game and 3-300x in free spins. If the ball lands on a number with a multiplier and that selection is represented in the bet selector than the resulting win is multiplied by the multiplier number, making very big wins possible on any single spin.
Free Spins
If a ball in the base game triggers free spins, you will be awarded 10 free spins, regardless if the slice is a winning slice or not. Slice multipliers increase to 300x, one extra number bet is added to the bet selector and two new features are added to the wheel including, added free spins up to 2, 3 or 5 and respins. Respins if hit, trigger a guaranteed win respin. Respins award a multiplier on wins that starts at 2x and increases for every loss on the wheel during the respin. Respins continue until a win is awarded.
MagSpins®
MagSpins® symbol can appear on the base game or free game wheel and awards 3 spins on its wheel of 8 fixed slices and is your best change for massive wins, up to 15,100x your bet with a guaranteed win of 12x. A ball selector is spun to award 1 to 3 balls that will be used during the entire MagSpin® session. The more balls, the greater chance for bigger wins. The wheel loads with new multipliers on each spin and winning slices are locked and their values upgraded. If a ball lands on a slice with a respin symbol, an extra spin is awarded. At the end of MagSpins®, the total multiplier in the pot is multiplied by the active bet amount, winnings are calculated and paid accordingly.
Bonus Rush® & Clusterspin®
This game includes both of RAW's add-ons, Bonus Rush® & Clusterspin®. Bonus Rush® allows players to jump straight into the action. No more waiting, buy 8 or 12 free spins directly or take your chances with MagSpins®. Clusterspin® which gives you the chance of placing a bet on whether your session will be a winning or losing one, can earn you extra cash, up to 1,000x extra!
As an operator you can choose the game RTP that fits your site and players best with a choice of 90.53%, 94.52% or 95.53%. The Magnificent SuperSlice™ is rated as a RAW Thrill game with exciting volatility.
Tom Wood, CEO for RAW, said: "The Magnificent SuperSlice™ displays yet another new and exciting SuperSlice® mechanic which shows its incredible diversity. Besides being the first dynamic wheel RNG Roulette game, it offers Bonus Rush® and Clusterspin® as well as offering a fun western-themed game with magnificent artwork, gun-slinging features and bank-robbing payouts."